An automated track is coming up in Hari Nagar, which will cater to the areas covered by West I RTO in Janakpuri. The transport department recently held a meeting to review the work at these two sites.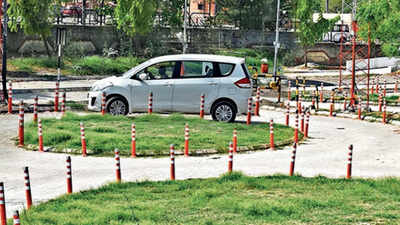 (Source: TOI)
Delhi has 10 automated test tracks, where around 2,000 applications are received per day for tests, sources said. While the new tracks will take the number to 12, the Delhi government has already initiated the process for creating eight more tracks at educational institutions.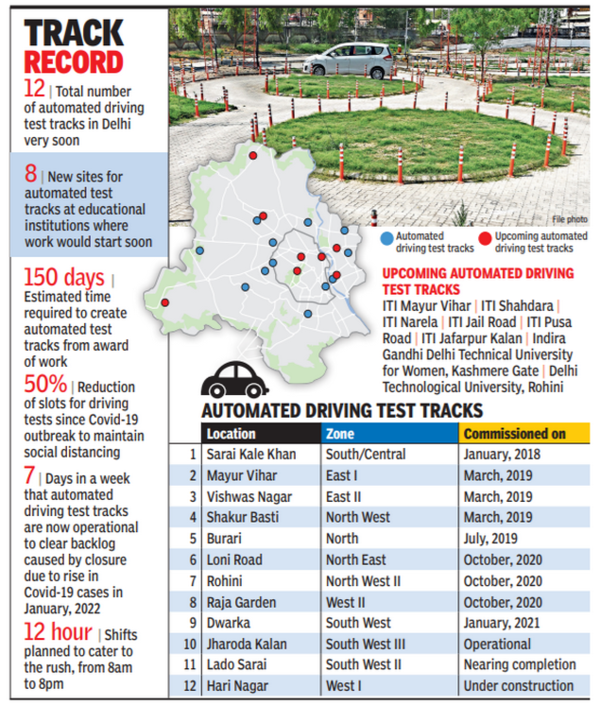 (Source: TOI)
"A state-of-the-art facility has been created in Lado Sarai and currently finishing work is being carried out. The new track is expected to open in the first half of March," a government official said. "The test track at Hari Nagar may take some more time but the work there is also being expedited," he added.
The first automated driving test track in Delhi came up in Sarai Kale Khan, which caters to both South and Central zones, in January 2018. In March next year, three more facilities came up in Mayur Vihar, Vishwas Nagar and Shakur Basti, followed by a track in Burari in July 2019. More test tracks came up in October 2020 in Loni Road, Rohini and Raja Garden, and Dwarka got a centre in January 2021. The 10th facility became operational in Jharoda Kalan.
The number of automated tracks, however, are not being able to cater to the rush of applicants. As a result, the government zeroed in on educational institutions for new tracks. The work of the new tracks is being carried out by Delhi Transport Infrastructure Development Corporation Limited, an enterprise of the state government.
The eight sites where these tracks will come up are industrial training institutes in Mayur Vihar, Shahdara, Narela, Jail Road, Pusa Road and Jafarpur Kalan, apart from Indira Gandhi Delhi Technical University for Women at Kashmere Gate, and Delhi Technological University in Rohini.
(Only the headline and picture of this report may have been reworked; the rest of the content is auto-generated from a syndicated feed.)

Story Credit: TOI